SITHE chopper pumps solve clogging with an innovative, unique, first-of-its-kind, patented chopping technology that slices even the most troublesome solids in waste water. SITHE chopper pumps easily chop and pass solids like plastic bottles, wipes, mop heads, rags, nylon rods, wood dowels, baseballs, pillows, glass, and literally any solid in the waste stream. SITHE provides value to customers in the form of market distinguishing features like open center cutter design, field replacable heat treated blades, plug-n-play cord,optional white iron impeller, liquid cooled motor and large lifting bails. Available in both standard and explosion proof designs, SITHE chopper pumps are offered from 3HP to 150HP in 3″, 4″, 6″, 8″, and 10″ discharge sizes.
Flows to: 475 gpm
Heads to: 63 ft
Flows to: 950 gpm
Heads to: 200 ft
Flows to: 2100 gpm
Heads to: 160 ft
Flows to: 3500 gpm
Heads to: 105 ft
Flows to: 5000 gpm
Heads to: 150 ft
Blade NGV/XGV Grinder Pump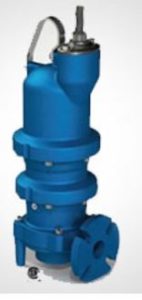 BLADE Grinder pumps are the Barnes solution to high head high flow waste water grinding applications in municipal, commercial and light industrial environments. They are available in 3HP to 15HP standard and explosion proof models with 2", 2.5" and 3" discharge sizes. BLADE grinder pumps are designed for long lasting dependability and ease of maintenance. Equipped with the Barnes Slicerator ™ radial cutting technology, plug-n-play "Quick Connect" cord and oil filled motor, BLADE grinder pumps are the perfect choice for demanding high head, high flow applications involving troublesome solids like plastics, ropes, diapers and cloth materials.
Flows to: 110 gpm
Heads to: 160 ft
Flows to: 155 gpm
Heads to: 242 ft