The PACO line of end suction, single stage pumps serves as the industry standard in performance, quality, and durability.With an expanded selec­tion of 32 sizes available.
Advanced features incorporated as standard on PACO end suction pumps ensure optimum perfor­mance and reliability. These features, as well as optional features that meet specialized needs, are available on the broadest line of high-efficiency pumps offered to the industry.
A pump and impeller design produces a higher operating efficiency – up to 91 percent – and provides a wider band of best operating efficiency, even during conditions of off-design operation. The PACO line of pumps is the smart choice for lower initial cost, longer pump life, re­duced operating and maintenance costs, maximum reliability, and quieter operation.
Benefits
Increased efficiency, lower life cycle costs
Compact construction and space savings
Back pull out design for ease of maintenance and service
LCS- 35% smaller foot print than frame mount design
LCS- Eliminates coupling alignment
LCS- No baseplate grouting
LC/LCV Close Coupled End Suction Pump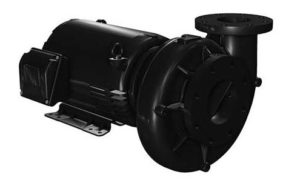 Features and benefits
Close Coupled Design – compact construction and space savings
Registered Fit – eliminates machine tolerance stacking
Permanent Rigid Alignment – eliminates need for alignments & prolongs seal and bearing lifeIndustry-Standard JM Frame Motor – simplifies motor replacement
Type LCV Pump – offers vertical mounting for increasing space savings
No Grouting Requirements – easy installationNSF61/50 Certifications (available upon request)
Francis Vane Impeller Design – increases efficiency and reduces NPSH required
Trimmed and Balanced Impellers – customization, reduced noise and vibration, & prolonged seal and bearing life
LCS Split Coupled End Suction Pump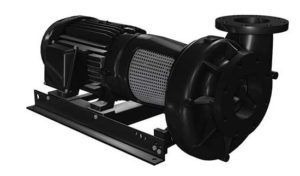 Features and benefits
35% smaller foot print than frame mount design
No baseplate grouting required
Lower weight offers installation ease
Axially split coupling enhances ease of service and no alignment
No alignment required between the pump and motor
Spacer coupling allows easy replacement of mechanical seal without removing the motor and drive
Vesconite Case Wear Rings – extend pump life and increase efficiency
Structural steel base with volute support aid in durability
Heavy Duty Cast & Machined Motor Bracket – rigid and reliable mounting surface with easy alignment
Double Volute Design – increased efficiency, lower life cycle costs, & prolonged seal and bearing life
Back Pull-Out Design – enables maintenance without disturbing piping
Large Seal Chamber – allows various seal configurations and customization
Integrally Cast Diffuser Vane – reduces turbulence and need for suction guides
Choice of Motor Enclosures- increases flexibility of design
Francis Vane Impeller Design – increases efficiency and reduces NPSH
Trimmed and Balanced Impellers – customization, reduced noise and vibration, & prolonged seal and bearing life
LF Frame Mounted End Suction Pump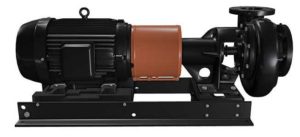 Features and benefits
Double Volute Design – increased efficiency, lower life cycle costs, & prolonged seal and bearing life
NSF61/50 Certifications (available upon request)
Back Pull-Out Design – enables maintenance without disturbing piping
Footed Bearing Frame – ease of maintenance
Footless Volute – permits discharge orientation flexibility
Permanently Sealed for Life Bearings – reduces environmental contaminants and maintenance
Machined Mounting Surfaces and Fabricated Base Plate – aid in alignment
Choice of Motor Enclosures – increases flexibility of design
Large Seal Chamber – allows various seal configurations and customization
Integrally Cast Diffuser Vane – reduces turbulence and need for suction guides
Francis Vane Impeller Design – increases efficiency and reduces NPSH required
Bronze Case Wear Rings – extend pump life and increase efficiency
Trimmed and Balanced Impellers – customization, reduced noise and vibration, & prolonged seal and bearing life