CR Cool Top pump can handle pumping hot liquids while still delivering the high pressures without any capacity change from the standard CR pump. The Cool Top shaft seal option can operate in a temperature range from 248 F to 356 F.
This option uses an air cooled chamber as an insulating barrier with a small amount of pumped liquid passage between the pump and the air-cooled top,  liquid recirculates by natural circulation into a separate seal chamber to prevent a dry run condition and does not require an external cooling process.
Normal applications include : boiler feed, temperature control and circulation of transmission oils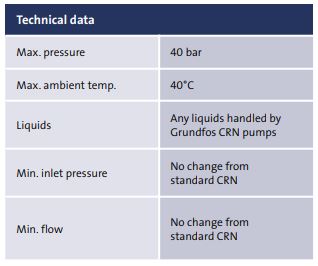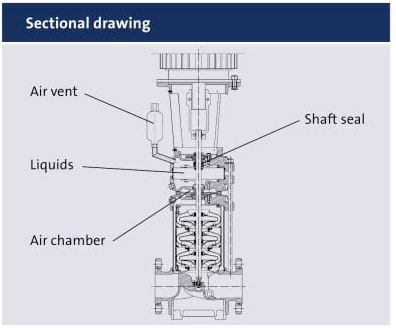 Shaft Seal Rubber Material Suggestions
The Grundfos CR Air-Cooled Top multistage, inline pump is for applications that require handling very hot liquids, from 120°C to 180°C (248-356°F). The pump has a special air-cooled shaft seal chamber, ensuring that the liquid temperature around the shaft seal does not exceed the level it can withstand.

The lifespan and efficiency of a shaft seal depends on the nature of the pumped liquid and it's temperature. The pump is available with different rubber qualities specially designed to cope with excessive wear and to provide long life under extreme operating conditions.