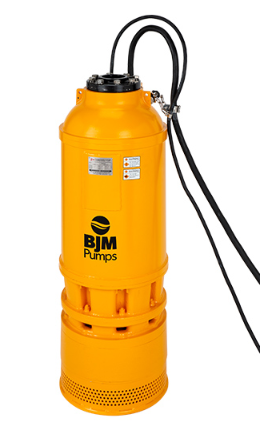 BJM Pumps KHD-KHH Series High Head Pumps
Removing water is an important and critical application in the mining, aggregate, and construction industries.  From deep excavation pits, pumps with high head capabilities are required to be able to transfer out the water and keep the pit clear.  BJM Pumps
BJM Pumps has just released their newest offering of industrial strength heavy duty submersibles: the KHD and the KHH Series, high head dewatering pumps.  The KHD series are single stage impeller pumps and the KHH series are dual stage pumps offering that are providing the head required for some of the most difficult of applications. These pumps have long service life in rugged application due to their hard metal components, including a high chrome iron impeller and ductile iron wear plate and volute. The pump features an oil-lubricated, double mechanical seal design with an early warning seal failure protection circuit to ensure the longest life of the unit.  The motor is built with Class F insultation and the pump can handle solids up to ¼".  The KHD-KHH Series presents 5 new size offerings to be able larger application that previously were un attainable.  Sizes include the: KHD110, KHD220, KHH220, KHD450, and the KHD750.  The KHD750 being the largest of the of the offerings can hit heads up to 400' and flow out 1,050 gallons per minute.
Typical Applications:
Mine Site Dewatering
Rental Fleet Heavy Duty Dewatering
Light Slurry Dewatering
Open Pit Ground Water Control
Aggregate Site Dewatering
Construction Site Dewatering
Power Station Dewatering
Accessories:
Controls: Manual or Automatic Starter Box (Including two mechanical float switches)
Seal Minder Alarm Box (Stand Alone)
Zinc anodes for corrosion protection
Cable Options:

GGH or SHD-GGC
316SS braided sleeve
For the latest information and help sizing your submersible for your high head dewatering application; please do not hesitate to contact our inside sales team… We would be happy to assist with your equipment selection for your application needs.